Games on Windows 7 - Games for Win7 Gamers
Windows 7 games menu contains a group of small and basic games for Windows 7 users.
I'll try to set here the list of new Win7 games and a screenshot from each Windows 7 game.

Microsoft has released the new client operation system Windows 7 RTM edition to MSDN and TechNet Subscribers and Microsoft Partners. Soon Windows users will be able to buy the new Windows 7 from markets. If you have downloaded and tested the Windows 7 CTP versions or the RC (Release Candidate) versions of Win7, you have then find the chance to play with the new features of Windows 7.

Let's start with displaying the list of Windows 7 games shipped with release to manufacture (RTM) version of Windows 7 Ultimate Edition.

List of Games on Windows 7 for Windows Users
Chess Titans
FreeCell
Hearts
Internet Backgammon
Internet Checkers
Internet Spades
Mahjong Titans, (Mahjong strategies)
Minesweeper
Purble Place, (download Purble Place)
Solitaire
Spider Solitaire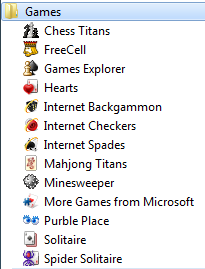 You can also browse for more Windows 7 games for playing online with your game partners over the internet using the Game Explorer link supplied by Microsoft.
Here where the Game Explorer link navigates from the Windows 7 games menu : Games on Windows Live Messenger