Windows 8 Activation using Desktop Control Panel
With the first public available Windows 8 release, Windows Developer Preview I had the chance to see how easy is Windows 8 activation.
Although you might have some difficulty to find the right Control Panel screen to activate Windows 8, you might get surprised that Microsoft Windows 8 has already been activated by the new operating system Action Center.
What is Windows 8 Activation ?
Let's start with What is Windows Activation for a Windows 8 setup.
Windows activation helps to identify that your Windows 8 installation is genuine and helps to prove that your Windows 8 software is used on a number of computers within Microsoft Software License Terms apply. Please note you should activate Windows 8 within the given 30-days period after installation date using either online activation or using phone activation. Automatic online activation will activate Windows 8 copy after 3 days later the new operating system software is used.
First display the Windows 8 Start screen where the tile theme is active and click the pinned by default Control Panel tile on the screen.

If your Windows 8 installation has not been yet activated automatically, or your Windows 8 computer does not have internet connection you will see the Activate Windows screen on display when the new Control Panel is running.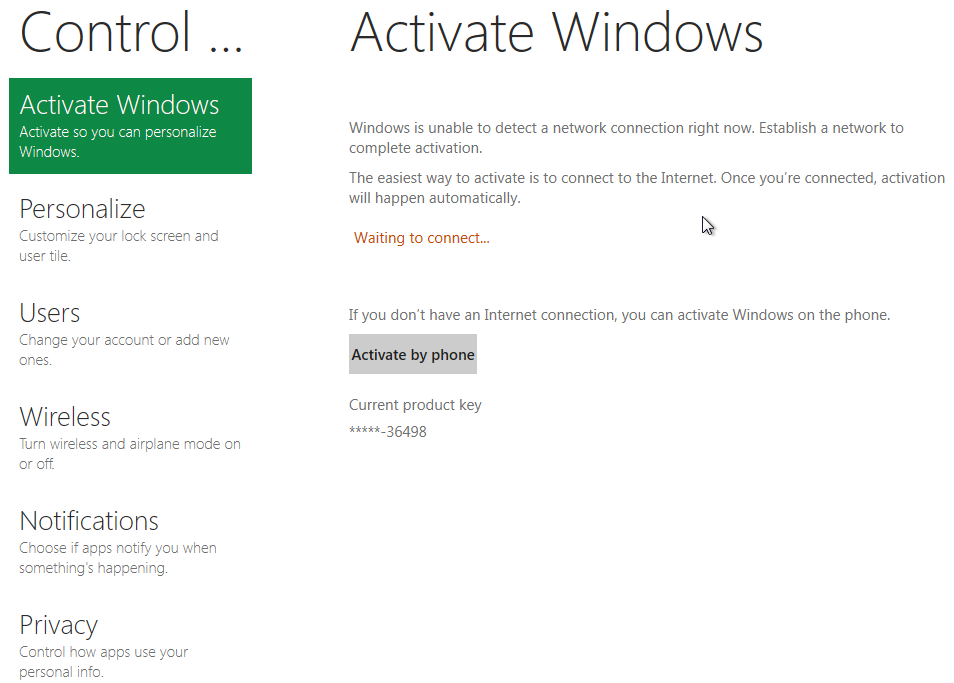 Windows is unable to detect a network connection right now. Establish network to complete activation.
The easiest way to activate is to connect to the Internet. Once you're connected, activation will happen automatically.
If you don't have an Internet connection, you can activate Windows on the phone. In order to activate Windows 8 using phone just like previous Windows OS (Windows 7 or Windows Vista), click on Activate by phone button shown on above screenshot. You can check the Windows activation by phone details here.
If your Windows 8 activation is completed you can see details again using the Control Panel. But this time you should switch to Desktop Control Panel which is the control panel we are used to than the new Windows 8 Control Panel.
When the new tile theme Control Panel is displayed on Windows 8 screen, scroll down on the left side of the Control Panel screen till you see "More sttings" option.
Click on "More settings" to display the Windows Vista or Windows 7 style Control Panel, called as Desktop Control Panel in Windows 8.

Follow the below Control Panel selections:
Control Panel > System and Security > System
Users will realize the Windows 8 activation section at the bottom of the screen.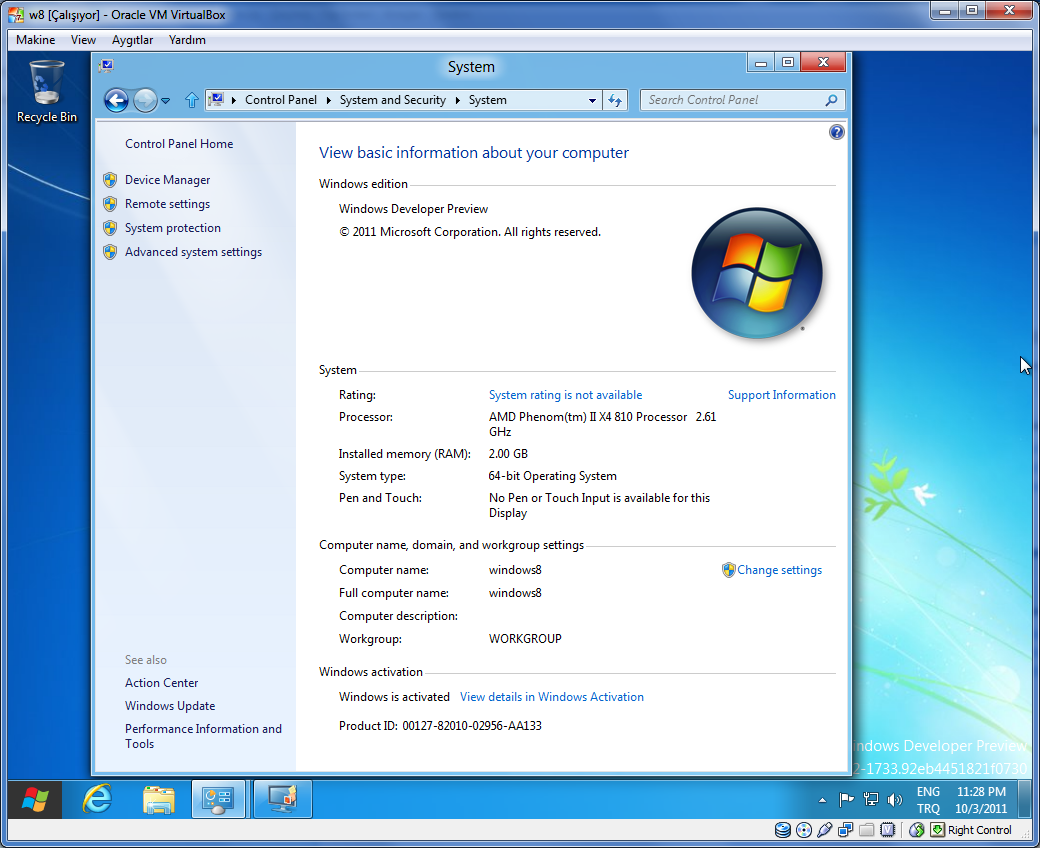 Click on View details in Windows Activation link button to activate Windows 8 or to see Windows 8 activation details.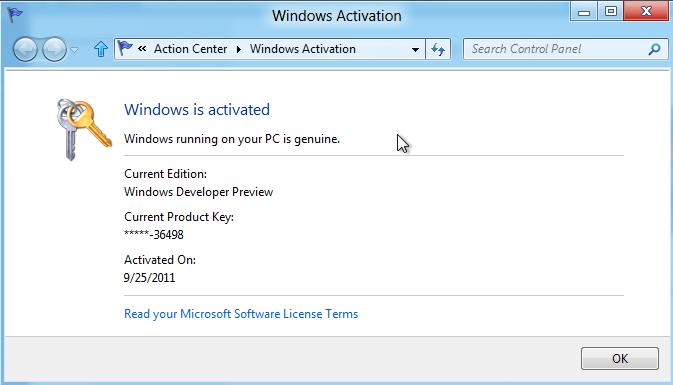 If your Windows 8 operating system running computer is successfully activate Windows 8, then you will see a screen similar to shown below.
Windows is activated
Windows running on your PC is genuine.
Current Edition:
Windows Developer Preview
Current Product Key:
*****-36498
Activated On:
9/25/2011
Read your Microsoft Softwar License Terms