Outlook Folder Size
How can I check Outlook folder size is a common question among Microsoft Office Outlook users in companies using Outlook as mail client. If you are using Microsoft Outlook as your email software and create folders in Inbox and in your Outlook Personal Folders to organize your communication with others, you will soon face the problem to check folder sizes of your email folders. Especially on enterprise companies where limited storage sizes are defined for Microsoft Outlook requirements, after sometime Office Outlook users will need to delete older email or archive them to open space for future use of MS Outlook.
But before creating space by deleting old email or archiving them, generally all Outlook users will want to see how much space does Microsoft Outlook emails occupy on the disk. Actually Outlook provides tools like view mailbox size Outlook tool to calculate folder size automatically. Here how you can find folder sizes of Outlook on a Microsoft Office Outlook 2007 installation.
If Microsoft Outlook folder sizes are very big, I suggest users to compact Outlook files using Compact tool in Outlook. Please refer to How to Compact Outlook PST file guide for step by step guide.
Office Outlook Total Folder Size
Here is a method to check overall size of all Outlook folders (or to calculate the sum of all Outlook items).
Start Microsoft Outlook.
Using top menu follow Outlook menu options open Tools menu. Then click Mailbox Cleanup... tool option.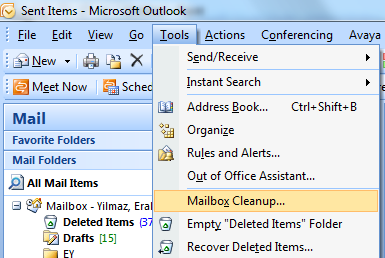 Start Mailbox Cleanup tool from Microsoft Outlook menu options
This menu selection will display one of MS Outlook tools named Mailbox Cleanup. This Outlook tool enables Outlook mail client users to delete alternate emails, empty deleted items folder permanently and move old items to archive file. Also Outlook users can find emails with older than some specific days and larger than specific size using the find items function.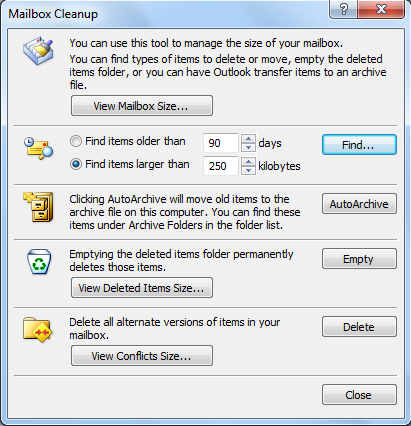 Microsoft Outlook Mailbox Cleanup tool
But what is important for us on Outlook Mailbox Cleanup tool is View Mailbox Size... function.
Microsoft Outlook email client provides a central tool for its users to view all file folders' sizes from a single point with the existence of View Mailbox Size function.
If you press View Mailbox Size Outlook button on the top section of the Mailbox Cleanup screen, a report screen will display a list of folders and the folder sizes in Microsoft Outlook client.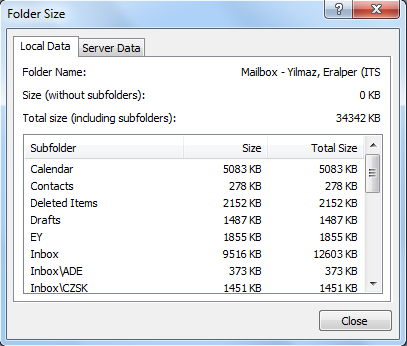 Display Microsoft Outlook folders size list
The list contains the following Microsoft Office Outlook 2007 folders in alphabetically:
Calendar, Contacts, Deleted Items, Inbox, Journal, Junk E-mail, Notes, Outbox, Sent Items, Spam Mail, Spam Mail\Approved Sender List, Sync Issues, Sync Issues\Conflicts, Sync Issues\Local Failures, Tasks
At the top of the screen the size of items in all Office Outlook folders is also displayed under Total size (including subfolders) item.
Folder Size for specific Outlook Folder
Instead of all Microsoft Outlook folders size, you can check size of a specific folder in Outlok using the Properties context menu option.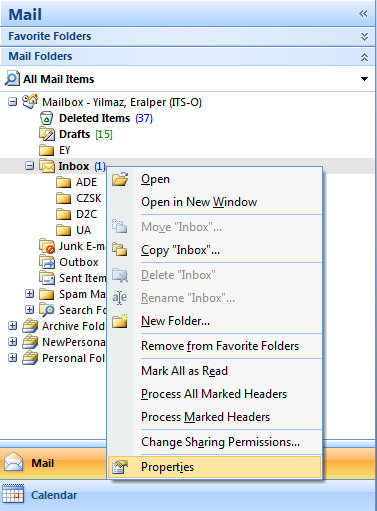 Office Outlook users can check folder size of a specific email folder from its Properties
For example, highlight Inbox email folder. Right-click on Inbox folder and choose Properties from context menu. The below Inbox Properties window will be opened.
Goto General tab.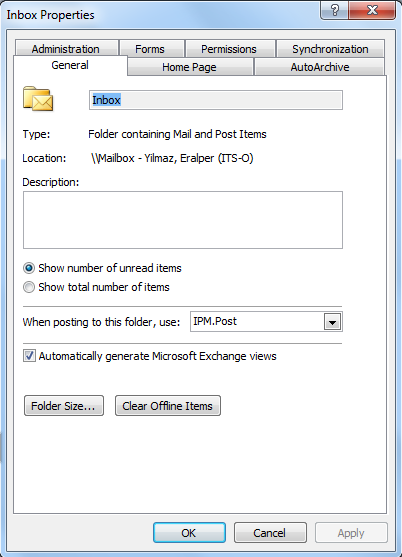 Microsoft Outlook folder Properties screen
If you click Folder Size button on the bottom of the Folder Properties window on General tab, a new screen will be displayed showing folder size for that specific folder and subfolders in MS Office Outlook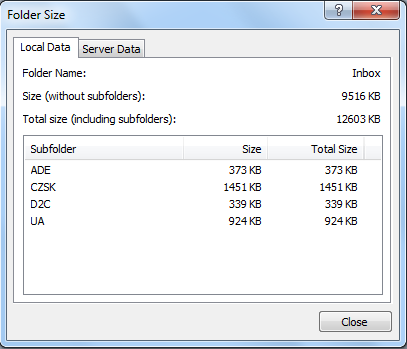 Microsoft Office Outlook folder size including subfolders and only item sizes in that folder