Compact Outlook PST File
It is important to compact Outlook PST files, (Outlook Personal folder data files) frequently to minimize the disk space that Microsoft Outlook is using on your computer. If you take numerous emails during day and you move them from folder to folder or delete most of them, the disk space used by Office Outlook will be high. To compact Outlook .pst files using the Outlook Compact tool will make it is possible to re-gain part of this disk space.
Here is an initial situation where the data files or Outlook PST files of my two personal folders reside. As you can see the sizes of each Outlook file is big since I'm used to register to emailing lists, programming and information technology related groups, forums, blogs, etc. So I really get hundreds of emails each day where most of them are deleted after just a few seconds of looking.


Size of Microsoft Office Outlook Personal Folders (.pst) files before I compact them
Users can also check Outlook folder sizes using tools in Outlook. Please read details in How to view Outlook Folder Size named Microsoft Office tutorial.
Now let's try to compact Outlook files to reduce the space they use on my computer's disk
Launch Microsoft Office Outlook and follow menu options Tools > Account Settings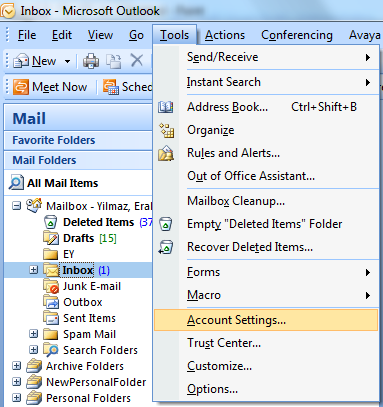 Outlook Tools - Account Settings menu option
You can find details about your account on the displayed screen.
Since we deal with compacting data files, please switch to Outlook Data Files tab and click on one of the .pst files displayed in Data Files list.
Below Data Files tab also displays Outlook PST file location on the computer. Since it is a frequent question among Office Outlook users, "Where is Outlook PST file location ?", they can use the Data Files tab for viewing the full path of their personal data files as well as Outlook Archive folders.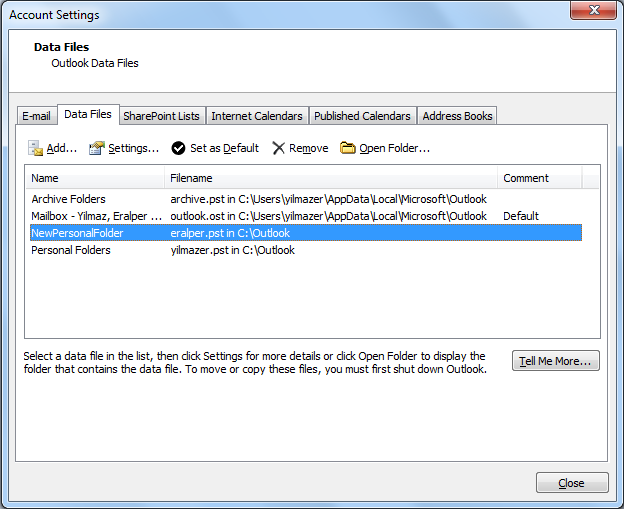 Data Files tab listing Microsoft Outlook data files which we will compact them to reduce disk space
After you highlight the data file from the list by selecting with a click on the data file, press Settings button on the top of the list. A Personal Folders titled Outlook window will be displayed with the name of the .pst file, file path, etc.
On Personal Folders screen where .pst file properties are listed, there is also Compact Now button which we will use to reduce the size of Outlook files. Compact process is a great Outlook tool to use minimum disk space during operation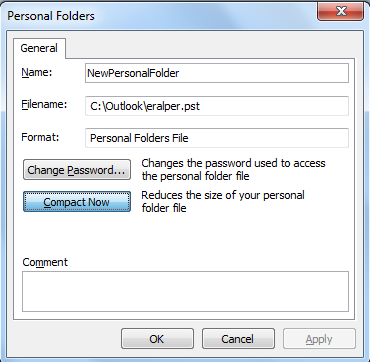 Users can compact Outlook personal folder .pst file pressing Compact Now button
When you press Compact Now button, Microsoft Outlook will start compacting personal folder file (Outlook pst file). Compact process will last for a period parallel with the size of the Outlook folder. But if your Outlook folders are large, time you wait for compact task will worth to wait.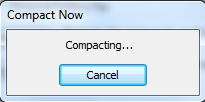 Compacting Outlook personal file to reduce file size on disk
And after I complete required steps to compact Outlook files used by my account settings, the final situation is as shown below. The file sizes of both Microsoft Office Outlook personal folders (.pst files) are reduced in high percentages when compared with their original sizes.

As you can see in this example, compacting Outlook files gain me nearly one third of initial disk space. Before I compact Outlook pst file of all Outlook Personal Folders, the total size was about 3 GB. When I compact my two personal folders, the total disk space occupied by these two Outlook files reduced by around 800 MB in size. So if you suffer from disk space on your computer, compacting your Outlook files frequently will provide you additional space for other uses.