Shuffle Wallpaper Pictures Instead of Windows 7 Dreamscene
Microsoft introduced the Windows Dreamscene with Windows Vista. On the contrary, Windows 7 excluded Windows Dreamscene for the sake of a more reliable operating system.

Windows 7 enables Windows users to shuffle pictures as desktop background of their PCs instead of using Windows Dreamscene. Of course shuffling images on your Windows 7 desktop background is not same with Windows Dreamscene. But if you get bored with the same image on your desktop background, or if you prefer to see the changing photos of your loved ones on your Windows 7 background, then shuffle pictures is perfect solution for you.
This can be managed by Windows 7 personalize command and Windows 7 personalization wizard for themes, etc.

I liked the idea of playing video files on my Windows desktop background. Animated background is something attractive for every Windows users. Especially if you place a video file slow in motion so that it will not disturb you while working, a video of sunset playing as desktop background sounds good.

Windows 7 users can shuffle wallpaper on their Windows 7 desktop backgrounds following the below steps:
Personalize desktop,
Choose set of pictures to display as background images,
Mark the Shuffle checkbox to finish configure Windows 7 shuffle wallpaper pictures.

First, right click on the Windows 7 desktop background. When the context menu is displayed, click on Windows 7 Personalize submenu item. This will start the Windows 7 Personalization wizard.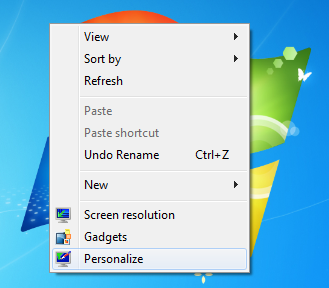 When the Windows 7 Personalization screen is displayed, click on Desktop Background link at the bottom of the wizard screen to configure Windows 7 settings for desktop background.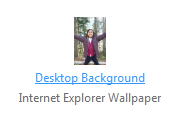 When the Windows 7 Desktop Background configuration screen is displayed, you can set the wallpaper images using the Picture location.

Possible options for pictures location are :
Windows Desktop Backgrounds, Pictures Library, Top Rated Photos, Internet Explorer, Windows Photo Viewer and Windows folders that can be browsed through Windows Explorer.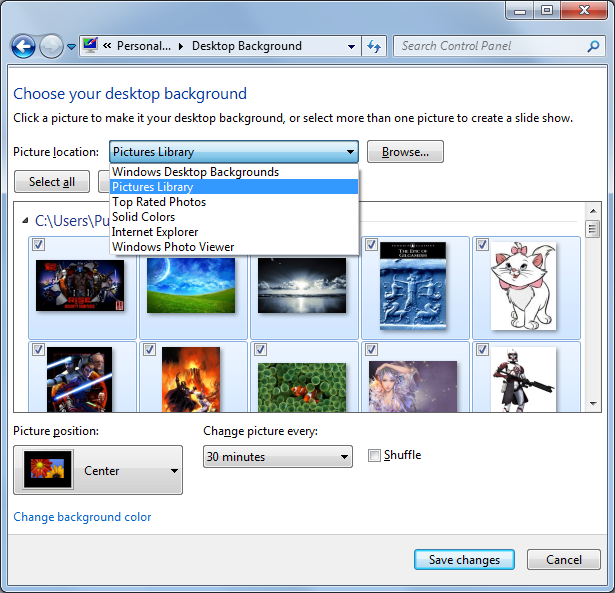 Do not forget to mark the Shuffle checkbox to shuffle wallpaper pictures as your Windows 7 desktop background.

After completing the above 3-step recipe, your Windows 7 desktop will have a more amazing background.