How to Enable or Disable the User Account Control (UAC) on Windows Vista
What is Windows Vista UAC (User Account Control)?
Microsoft has introduced the User Account Control (UAC) as a new security component in Microsoft Windows Vista OS various Editions as well as Microsoft Windows Server 2008 in order to keep the operation system safe. The User Account Control forces the local administrator group users to work as an ordinary user and requires user commitment and approvement in cases where an administrative privilege is required during processes like installing a new software or altering a system configuration.
You can find more detail about UAC (User Account Control) for Vista at User Account Control Step-by-Step Guide
Disable UAC in Vista (or turn off UAC)
In order to disable Vista UAC or turn off UAC feature on Windows Vista, you should be able to log on or able to provide the required credentials of a user from the local Administrators group.
Go to start menu to open the Control Panel
In Control Panel click User Accounts and Family Safety configuration link

Click on User Accounts

On the User Accounts tasks windows click on the Turn User Account Control on or off link at the bottom of the screen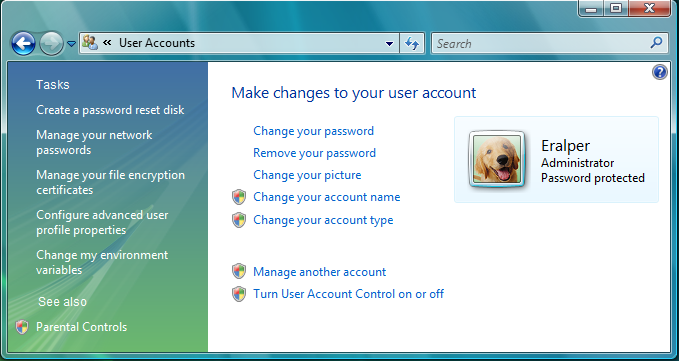 Since the User Account Control is active and not disabled at this point, you will be prompted by the User Account Control message. Click to continue.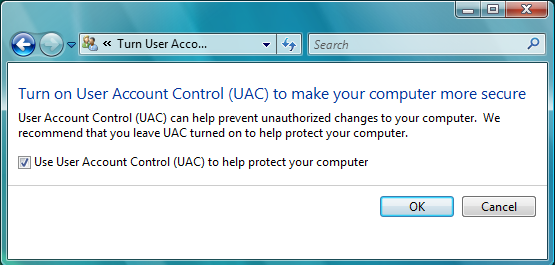 Clear the checkbox which is indicating "Use User Account Control (UAC) to help protect your computer". And click OK to continue.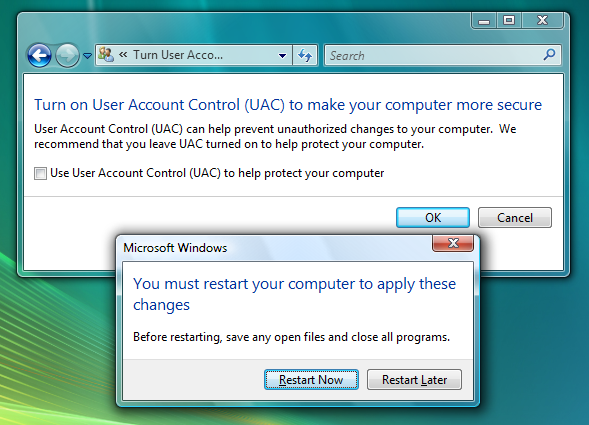 The computer must be restarted to apply the changes on Vista UAC configuration.