Pin Program to Taskbar using Windows 8 Pin to Taskbar
Windows 8 Search Charm enables users to pin program to Taskbar or to Start screen using "Pin to Task bar" or "Pin to Start" commands. Since I found placing short-cuts of frequently used programs in task bar in my office computer and in my home PC, one of the first things I searched for in Windows 8 was how to pin program to Windows 8 Taskbar.
Windows Task bar is not something new for Windows 8 users (remember pin to Windows 7 taskbar). But with public available release of Windows 8, Windows users have met Start screen which is new in Microsoft Operating systems. On the other hand Windows Start screen is similar to desktops that smart phone or tablet users are used to.
I'ld like to pin Notepad shortcut to Windows 8 taskbar for demonstration to pin program to program to taskbar in Windows 8.
When you are in Windows 8 Start screen, type Notepad. As you start typing Windows 8 Search Charm will be activated and matching applications will be listed in the result list.

When Notepad program or application is listed on the left list, right-click on the Notepad tile.

When you right click on the program tile, a context menu will be displayed below in Windows 8 screen as follows
This menu for Notepad program or any selected Windows 8 application has action buttons for Pin to Start, Pin to taskbar, and for other actions Open new window, Run as administrator, and Open file location.

When you click on Pin to Start, Notepad tile will be displayed on Windows 8 Start screen as follows.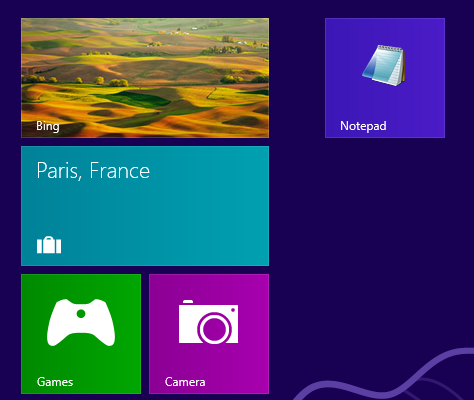 When you click on Pin to taskbar, Notepad program shortcut will be placed in Windows 8 taskbar as follows.

Of course Windows 8 users can also use Windows Explorer to pin application to taskbar or pin a program to Start screen. All you have to do is to open the folder where the executable application file exists, and then right-click on the application to display context menu as seen in below screenshot. Then you can select Pin to Taskbar option or Pin to Start option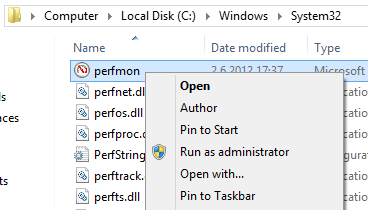 Here is how Windows 8 users can pin program to Windows 8 taskbar with pinning Performance Monitor application to Taskbar