Enable and Configure Kid's Corner on Windows Phone 8 Smartphones
Windows Phone 8 enables smartphone owners to configure a room for kids named Kid's Corner where they can play games and use apps that their parent choose for them. While children are playing games in Kid's Corner, they are totally seperated from your apps. They can only play games you enabled for them, use apps given permission, listen music and video (movie) files you added to Kid's Corner for your children. So there is no risk that kids can delete your files, emails, photos, etc. Children are secure in Kid's Corner like Windows Parental Controls which exists since Windows Vista (Windows 7 and Windows 8) PCs and your private or work stuff are protected from being accidentally deleted by kids.
Unfortunately Kid's Corner is available only on Windows Phone 8 running smartphones right now.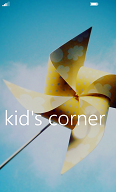 Windows Phone 8 Kid's Corner as a place for children are free to play
Kid's corner enables a secure and isolated room for kids to play games and run allowed apps, video or music files.
Swipe left on the main screen of your Windows Phone 8 smartphone to open apps directory installed on your phone.
Use letter S as shortcut to reach Settings app
In Settings app System settings list, you will see kid's corner listed as shown in below screenshot.
Tap on kid's corner to enable and configure apps, games, music and movie files for your children to use.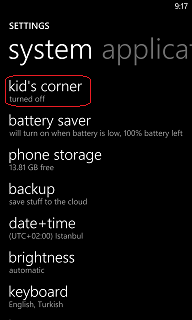 Use Windows Phone 8 settings app to enable and configure Kid's Corner
When you are in kid's corner settings tab, enable kid's room by using the switch seen in below screen. Before turning on the kid's corner you may want to get more details about this Windows Phone app. You can get detailed information about Kid's Corner parental app by pressing "Learn More" link button referencing to Windows Phone portal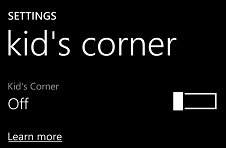 Enable Kid's Corner on Windows Phone 8 using Setings app
Right after kid's corner is turned on on your Windows Phone 8 smartphone, configuration screen will enable you to view summary of games, music, videos and apps given permission for kids. On the same screen you can also allow children to reach additional apps, games, music or video files or remove permissions back.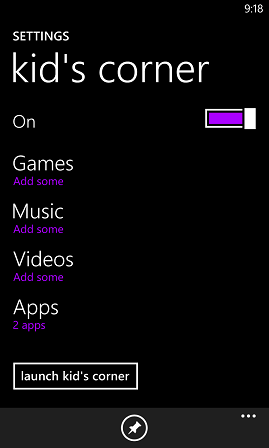 Windows Phone 8 Kid's Corner configuration screen in Settings app
You can switch to Kid's Corner any time just like a child user to verify your configurations and given permissions for apps by pressing the launch kid's corner button.
Just tap on the Games, Music, Videos, Apps subtitles to configure each sub-area for kid's room.
For example, if you want to add new games apps, tap on Games.
This action will display the list of installed games on your Windows Phone 8 smartphone on a screen titled kid's corner games.
Choose the games by marking the checkbox beside the Windows Phone 8 game name that you want to give permission to your children to play. After you are finished with game selection, press OK button to save the selection.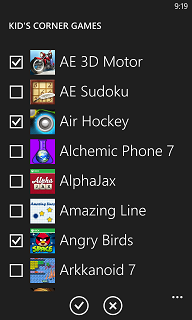 Choose games among installed Windows Phone games list for Kid's Corner configuration
For apps, video files and music files selection there are similar screens where you can mark the files or apps that are suitable for your kids to reach.
For example, if you tap on Apps on kid's corner settings main screen, a similar screen like below will be shown. On kid's corner apps screen, a list of all installed apps on your Windows Phone 8 is displayed.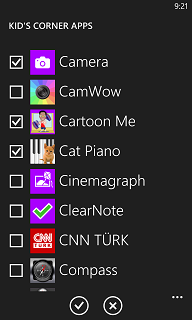 Kid's Corner Apps selection on Windows Phone 8 smartphone
If you want kids to run a specific Windows Phone app, mark on checkbox beside installed apps on your Windows Phone 8 smartphone (like Nokia Lumia or HTC 8X, etc.)
After you configure kid's corner for children to play free and use allowed apps on your Windows Phone, when they take your phone they will not be able to logon to password protected area. Instead they will switch to kid's corner which does not require any password. Here is a sample room for your kids on your smartphone device. I'm sure they will be happy enough not to request more :) just for a few more years at least.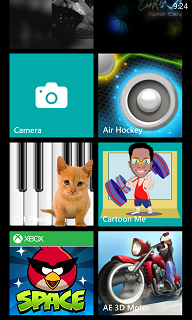 Sample comfigured Kid's Corner screen on my Windows Phone 8 smartphone