Time Tracking Software ManicTime Time Management Tool
Time tracking software is a must time management tool. Time management is one of most important issues for being successful in your professional career as well as in your private life. You might have read books, listen audio books or taken courses and professional consulting for a better time management in your private and professional life. But there is one important general rule for nearly all disciplines: "You cannot manage what you do not measure". So besides all time management techniques and time management rules, it is important to analyze your daily routines by using a time tracking application. After you measure your daily working habits, you will be able to realize bad marks for better time management. And it will be easier for you to go over your bad working habits.
Consulting firms can invoice their customers according to service given and time spared for that customer. It is important to relate working time with that customer easily. Digital platforms especially a time tracking software can help IT professionals to track time by recording all actions taken by the employee. Time tracking software can store this data for later use especially for reporting and for analyzing employee actions by grouping these actions according to desired specifications.
I had long been looking for a good time tracker application which will help me report my daily working hours. So I can see what I did today at the end of the day using this software.
For example, I really wonder the answers of the following questions:
How much time I spent on emails?
How long I had been on the web today?
How much time I spent for coding a specific program?
I just tried a few small and simple time tracking applications that will guide me for managing my time. At the end all these simple time tracker software was not able to report working hours at the desired detail level.
ManicTime Time Tracker Tool
While I was searching for a time tracker tool, I found ManicTime that will help me organize my time for a better time management at my work.
ManicTime has professional version which comes with additional features when compared to its free time tracking software edition. During the trial period, users can download, install and use full features in this time tracking apps. But even after free trial period ends, users can continue using basic time tracking functions for free.
First of all ManicTime time tracking tool is easy to use. You forget about it while working on your computer. This time tracking tool works as a background task behind. It collects all detailed information about the actions you are taking on your PC. This time management software records the time you started to work on a file and on a software. It keeps the time period you work with the file and the software you are using. For example you are working an a Microsoft Office Word document, the time tracking software records this information. When you switch to read your emails or open a web page, ManicTime responses and puts a break for your previous task and starts a new session for tracking your new activity.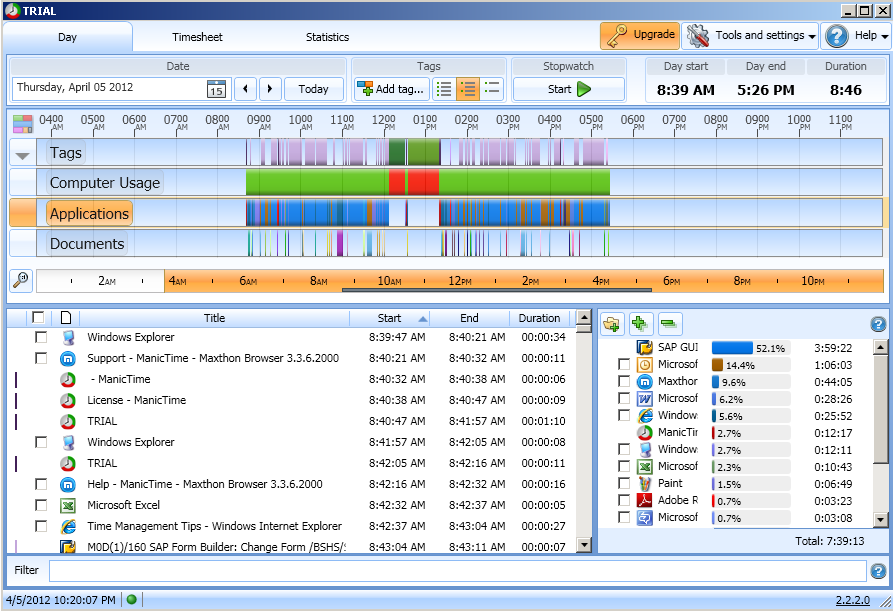 For example, if you look at the details view for the Applications timeline in ManicTime time tracking tool, you can realize the list with application name, start and end times, and the duration. That is perfect. This feaure was in my requirements list. So ManicTime time tracking software fulfills this requirement. By default the list is organize to display software applications in order according to their starttimes parallel to timeline. But you can also sort the list for duration.
Actually what is more beautiful about this screen is, it groups the applications and list them with the total period of time they were used. For example, I can see that I worked on SAP GUI application for 4 hours for ABAP development for a SAP project. It is important to see that I spent my 1 hour of time using Microsoft Outlook, reading emails or organizing Outlook folders, etc.
One great feature of ManicTime time management tool is it enables users to tag applications easily. So time spent on computer can be grouped by using customizable tags.
For example I tagged SAP GUI as "SAP PL" project. Although some emails that consume time are related with the SAP development I'm working on, it was not possible to separate these emails among others and tag only these emails as "SAP PL" to group them with SAP GUI application.
This free time tracking software also enables users reporting based on tags. Actually the main reporting functions of ManicTime time management software is included in the Statistics tab.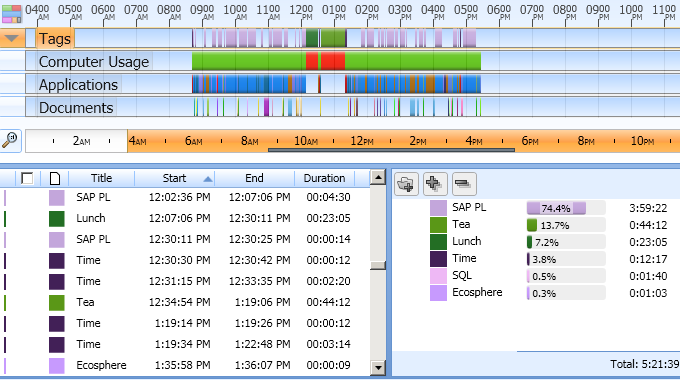 I can even see the documents, emails, or web pages I displayed on the Documents timeline view using this time management software.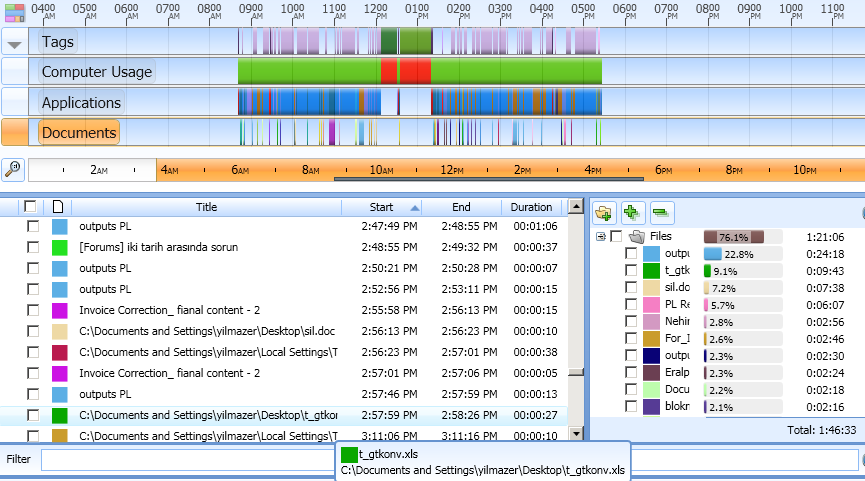 In the Statistics tab where main reports are displayed, you can export your report data outside the time tracking software too.
It is possible to display report data in tabular format or in graphical format.
Users can list top applications, top documents, top tags or computer usage data. Or you can build your custom reports.
ManicTime is one of the best free time tracking software that I can suggest for users who want to track their usage of time.