Short List of Success Principles of Jack Canfield
I have been listening the audio book of The Success Principles by Jack Canfield for a while and I'm very impressed with the thinking, explanation, ideas and suggesstions for everyone who wants to get where he wants to be. Jack Canfield is one of the best motivators for me just like Brian Tracy bringing easy but astonishing explanations to questions why you should change your behaviours and attitudes to get what you want. So I wanted to write the success principles list that contains principles for success I found most important from the book.
The simplicity of the formula that Jack Canfield serves for his readers or listeners like me via his audio book is very impressive and powerful:
E + R = O
This is : Event + Response = Output
To briefly practice this formula keep this in your mind; every result in your life is because of the response you have given to a specific event.
If you do not reach where you want, simply change your responses to the events you live.
Only the fools expect to get a different result after every time they give the same response to the same events.
Thanks to Jack Canfield, he is providing the materials including his book in PDF and planners for his followers who want to change their life and reach their goals. Visit www.thesuccessprinciples.com now to download the ebook of The Success Principles and other materials that you can benefit for yourself.
I want to copy down in this article the ideas and sentences that will remind me for the principles of success in life, in personal relationships and in business.
Here is a short list of success principles from the book The Success Principles by Jack Canfield and Janet Switzer.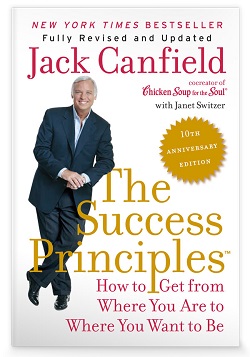 Short List of Success Principles
Take 100% Responsibility for Your Life
Decide What You Want
Believe It is Possible
Believe in Yourself
Unleash the Power of Goal-Setting
Success Leaves Clues, follow the clues of precessors
Release the Brakes
Take Action
Ask! Ask! Ask!, ask help of others
Reject Rejection, continue with next option. Don't give up.
Use Feedback to your advantage.
Improve your self everyday
Keep Score for Success
Practise the Rule of 5, do 5 things everyday that will make you closer to your goals.
Exceed Expectations, give more than expected from you
Develop new successfull habits every year
Start Now! Just do it!
If you own the audio book or ebook of The Success Principles, I believe you will like every minute of your reading or listening. Especially, if you drive from home to work for a long time, you will turn your driving time into a learning time which is a shared principle of Jack Canfield and Brian Tracy. Go an find a copy of the ebook or best download the audiobook on your smartphone to listen to the Success Principles whenever you have time.