Web Based CRM Software and Online CRM Systems
CRM software is rapidly becoming a standard business application. In recent years, low cost web based CRM software has become very important for both profit and customer retention. It has become clear to the modern company that keeping existing customers is much more important for the survival of their profits and therefore their business. This is why CRM solutions have been implemented and have changed the way that companies do business in the recent business climate.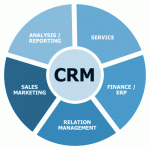 The entire concept of CRM is based on improving and maintaining the relationship between the customer and the business or company so that the customer ultimately spends more money on the products and services that the company offers. This is done by improving brand loyalty through direct marketing efforts based on personal information on the customer which is stored in the CRM database.

Large companies were the first to implement CRM software within their infrastructure, but now even small businesses are finding that this type of customer relationship management software would prove useful to the success of their business model. Web based CRM software is extremely well suited for this purpose and holds multiple advantages over traditional systems.

Advantages of Web Based CRM Software
In the past, CRM software has been notoriously expensive and difficult to install and run. This is a particular problem within a small business where resources required for this type of system installation, such as money and highly skilled IT support staff are simply not available.

A more feasible solution for small businesses to operate using a CRM system is to use web based CRM software. This presents an easy to use software solution for small businesses who do not have the financial ability to set up a fully fledged customer relationship management system within their own corporation.

The advantages of a web based CRM software system are many and are immediately obvious for the small business owner.
One advantage of the software is that a business which decides to choose a hosted CRM software incurs much lower costs in the initial set-up of the system. When deploying the implementation of a formal CRM software system, there is often a substantial set up and installation cost. When subscribing to a hosted CRM solution, this is not the case and the only fees are usually a monthly subscription fee which the business is required to pay only as long as the service is required. The web based CRM solution is a system which uses the "pay as you go" concept of cost management which is beneficial to business owners who may not use the software on a permanent basis.

There are also reduced costs in the actual running of a web based CRM solution. The only costs a business incurs when using online CRM systems is the actual subscription fee to the service. On the other hand, when using a hardware based solution on site there are numerous costs the firm may face. This can be anything from hardware failure, to human error due to a lack of knowledge and training. None of these problems present an issue for the business owner who instead opted for a web based CRM software solution.

Another factor to consider is the potential IT cost associated with a self hosted CRM software package, which can quickly escalate and can be highly damaging for the small business. Many such firms will not have their own IT team on call to handle any technical issues that may arise during either the installation or running of the system. The cost of hiring a dedicated IT team either permanently or on a semi permanent basis must be considered when making the decision of whether to choose a self hosted solution or a web based CRM solution.

Another advantage of online CRM systems or a hosted CRM solution is the fact that the data and application modules can be accessed from any location, providing there is Internet access on the site. Web based CRM software applications can be accessed by all users and provide the same amount of functionality from another location outside of the business.

In addition to all the other advantages, a hosted CRM solution offers the business automatic upgrades to the software technology in real time without any additional costs or implementation. Any advances made to the CRM software technology can be added to the existing application without interruption to the existing service. In contrast, a self hosted CRM application would require manual installation of software and perhaps even hardware to bring the system to a newer version. This is a complicated process for a firm to handle if they have no dedicated IT department to speak of. Running web based CRM software is advantageous to a business if they want to run an efficient and profitable system using the latest in industry standard CRM technologies.

As with other corporate online applications, hosted CRM software is experiencing a boom in recent times. The concept of cloud computing is becoming a much more popular concept and is now being seen as a practical business solution. Because of this, there are many new companies and brands of web based CRM software that are becoming industry leaders in the field.

Each company that offers an online CRM software solution will have their own respective advantages and disadvantages and no single solution is ideal for every firm. Many software companies can offer custom packages tailored to the needs of the individual firm. This can be an effective way of reducing unnecessary costs on parts of the software application that are not required. The typical makeup of a CRM software package is built up from a set of standard modules. These modules can be mixed and matched and some may be irrelevant to certain sizes and sectors of businesses. It is recommended that when a firm chooses a web based CRM package, they discuss a custom solution to suit their corporate operation. This way, the true cost of choosing a custom package is very often lower, both in the short term and in the long term of the operation of the business.