Sybase SQL AnyWhere Download
SQL developers looking for a database software can download Sybase SQL AnyWhere database management tool for rapid development on especially mobile environments. Although SQL Anywhere is assumed to be a light version of Sybase database software solutions like Sybase ACE, it has the capacity of managing hundreds of gigabytes of data and thousands of connections. One of most important features of Sybase SQL AnyWhere is its data synchronization capabilities.
After SAP purchased Sybase and joined the power of Sybase database software to its business experience, the importance and Sybase ACE and Sybase SQL AnyWhere database applications will be increasing in following years. I've seen on some posts in IT communities discussing about Sybase database administration. So I believe Sybase SQL Anywhere will be one of hot database topics near future. Database administrators and data professionals can find latest Sybase SQL AnyWhere download links in this guide.
The latest build released from Sybase is Sybase SQL Anywhere 12 which developers can download SQL Anywhere 12 Developer edition using Sybase web site.
The setup executable Sybase SQL Anywhere download is about 302 MB in size.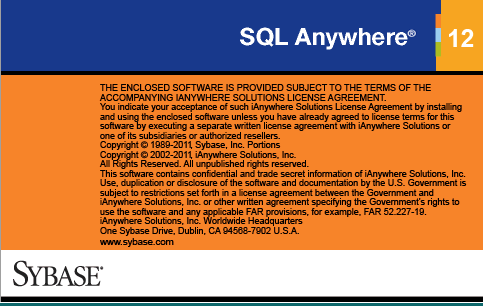 Download Sybase SQL Anywhere 12 database software
Database administrators and developers can also find system requirements for running SQL Anywhere successfully on their system. Data professionals will also find whitepapers, tutorials and sample databases at Sybase web site.