Split Backup in SQL Server into Multiple Files
In order to split backup in SQL Server into multiple files, database administrators can use T-SQL Backup Database command as well as SQL Server Management Studio Back up Database Task Wizard
Here is how to backup SQL database into separate files using SQL Backup Database command.
Here is how database administrators can split SQL Server database backup into multiple files in SQL Server 2008 using SSMS
Open SQL Server Management Studio.
Connect to SQL Server database instance where your target database resides.
Open context menu by a right-click on the sql database which you want to take its backup file
From the context menu, choose Tasks > Backup ... menu options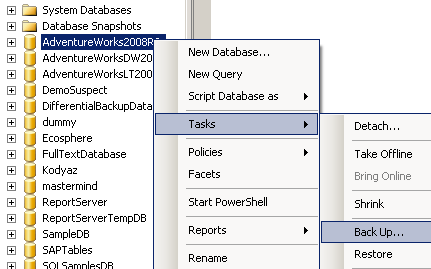 The above SQL backup task selection for your database will open the Back Up Database wizard dialog screen.
In the Backup Destination section of the SQL Back up database task screen, provide more than a single file as seen in the below screenshot.
Since I want to split backup file into 5 backup files, I provided 5 separate files as backup destination :
C:\SQL-Backup\AdventureWorks2008R2.backup1
C:\SQL-Backup\AdventureWorks2008R2.backup2
C:\SQL-Backup\AdventureWorks2008R2.backup3
C:\SQL-Backup\AdventureWorks2008R2.backup4
C:\SQL-Backup\AdventureWorks2008R2.backup5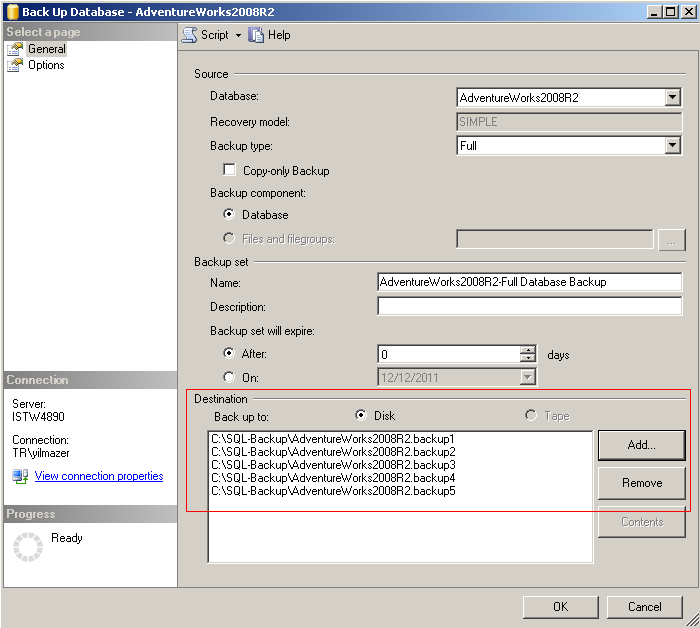 After you enter different destination file names in order to split sql backup files, click on OK button to start backup database task