SQL Server 2011 SSMS has Duplicate Instance Names in Connect to Server Screen
Microsoft has released MS SQL Server 2011 aka Denali in previous weeks.
You can also download SQL Server 2011 free and work on first Community Technology Preview CTP 1 version of SQL Server Denali.

After SQL Server 2011 installation, I realized a strange behaviour in SQL Server Management Studio (SSMS).
When I first open SQL11 SSMS, the Connect to Server screen is displayed.
But everytime this SSMS screen is opened, the server name list is getting longer and longer with duplicate SQL Server instance names.
Here is a screenshot: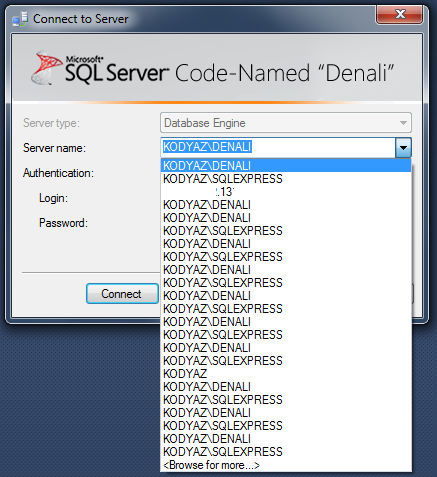 I have submitted this strange situation in a Microsoft SQL Server 2011 bug form at Microsoft Connect.
If you experience same problem you can also vote for the SQL11 feedback.