Free Download Safari for Windows 8 Web Browser
To download Safari browser for Windows 8 or Windows 7 OS, Windows users can visit Apple Support portal. Especially if you're a web developer and want to test and see your web applications how they work on different browsers, you may want to download Apple Safari web browser and install Safari on your Windows 8 or previous Windows OS running PCs (like Windows 7 or Windows Vista)
You might be searching different browser downloads like Safari for Windows 7 or Safari for Windows 8, but it is nice that there is only one download file for all Safari setup on different Windows versions. Since it take some time for me to discover the Safari download link, I thought it might be useful if you are also looking for the free Safari web browser download link.
Important UPDATE
If you are using Windows 10, please read my guide on using Safari web browser at Safari on Windows 10 Please note that Apple do not provide Safari web browser for Windows any more. But I experienced if you have upgraded then you can still use it on your PC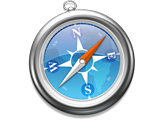 Safari browser for Windows 8 and Windows 7 OS
Safari Download Properties
Latest Safari web browser available for Windows operating systems is Safari 5.1.7 for Windows
In order to download Safari web browser for free use this SafariSetup executable http://appldnld.apple.com/Safari5/041-5487.20120509.INU8B/SafariSetup.exe
Another option to download Safari browser, you can visit Apple Support Downloads web portal and search for Safari for Windows
Setup file size for Safari download is 38.5 MB and for a successfull installation base operating system requirements are Windows XP SP2, Windows Vista, Windows 7 or Windows 8.
Safari for Windows 8 Setup Fail
During Safari internet browser installation, I had setup problems and a few times setup failed and became unsuccessful.
I was setting the installation folder for Safari for Windows under Program Files (x86) in E drive. I changed the target drive to C drive where Windows 8 was also installed.
Then I also clear all optional setup components. I unmark additional setup options and run the Safari for Windows web browser setup.
Making these two changes in installation steps made the Safari for Windows 8 web browser successful on my Windows 8 desktop computer.