Hide Your Profile on LinkedIn as Being Anonymous While Viewing Others Profile
As a LinkedIn member it is possible to hide your activities as being anonymous using Privacy settings of your account. Using Settins menu, it is possible to configure how other LinkedIn members see your activity: being anonymous is one of the possible options.
This guide shows how to hide your LinkedIn account name when you visit other members' profiles.
To be anonymous on LinkedIn, first of all logon to your LinkedIn account
Click on your LinkedIn Me profile photo to display dropdown menu options. From the displayed menu select Settings & Privacy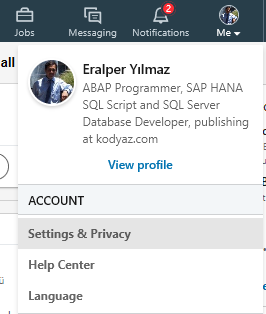 A detailed configuration screen is displayed for the LinkedIn user.
You can manage settings grouped in following four categories: Account, Privacy, Ads, Communications

To hide your profile while viewing other LinkedIn users and show your activity as anonymous, we will use the options under Privacy menu.
Under Privacy menu options, go directly under configuration options How others see your LinkedIn activity
Click on Profile viewing options to choose whether as a LinkedIn user you are visible or viewing in private mode.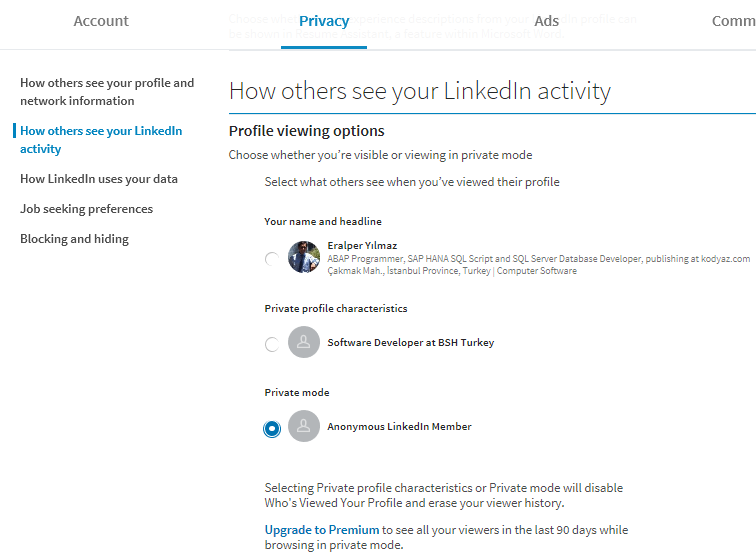 As seen in above screenshot, I chosed Private mode so my name will not be seen and I'll be anonymous LinkedIn member when I'm viewing other LinkedIn members.