SQL Error on Amazon Redshift Database during Drop Table Command Execution
Recently a SQL developer created a database table on Amazon Redshift cluster with a name including double quotes and during SQL DROP TABLE command execution experienced a SQL error because of syntax error. In this short Amazon Redshift SQL tutorial for database developers, I want to show how to get rid of double quotes within table names in DROP TABLE SQL command.
How can you drop a database table on Redshift named businessdev."marketprediction" in public schema?
Pay attention to the table name. It contains (") double quotes in its name.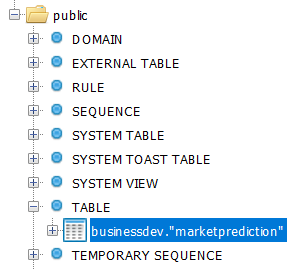 On SQL Workbench/J (a SQL database management tool) when I click on the table name and select Drop to execute the drop table command using GUI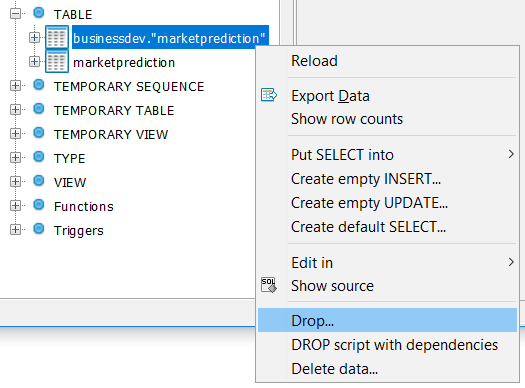 Following SQL error occurs and raised by Amazon Redshift cluster
An error occurred when executing the SQL command:
DROP TABLE public."businessdev."marketprediction""
[Amazon](500310) Invalid operation: syntax error at or near "marketprediction"
Position: 33; [SQL State=42601, DB Errorcode=500310]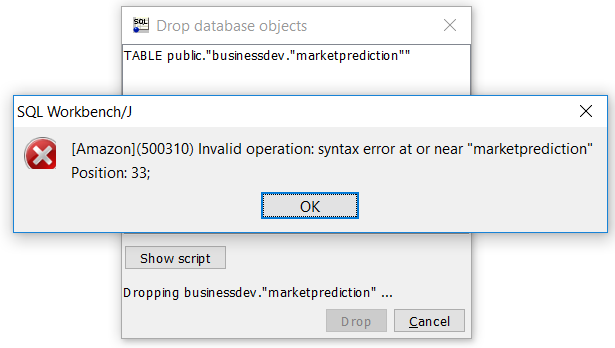 The correct syntax for drop table command with such complex table names is as follows on Redshift database
Just remove the "public" schema name from the command.
By default if we do not provide the schema name SQL assumes it as "public" schema
Then for the double quotes " in the name of the table, replace each double quote with two double quotes
So, table name businessdev."marketprediction" should be escaped as businessdev.""marketprediction""
And we add an enclosing double quotes, at the begining and at the end of the table name