Download Consolas Font Pack for Microsoft Visual Studio 2005
Microsoft has created and released a new font family Microsoft Consolas Font Family for the use of developers especially using Microsoft Visual Studio 2005 and Microsoft Visual Studio 2008 as their development environment (IDE).
Microsoft Consolas Font Family is a monospaced font family pack intended for programming environments. All the characters are in same width. This property of the Consolas font family enables an easy and a more comfortable readablity of this font.
For .NET developers, during programming or writing code in the Visual Studio, the Consolas fonts will ease reading the codes in the IDE and will help the programmers.
The Consolas Font Family installation file setup.exe is about 4.33 MB in size. After you have download the font pack and installed the Consolas fonts on your computer, you can select the consolas as the default font for your Visual Studio integrated development environment (IDE). You should go to Tools, and then Options in the Microsoft Visual Studio menu selections. Then drill down to the Environment options and find the Fonts and Colors sections as shown in the below screen. Select the Consolas from the Font selection dropdown.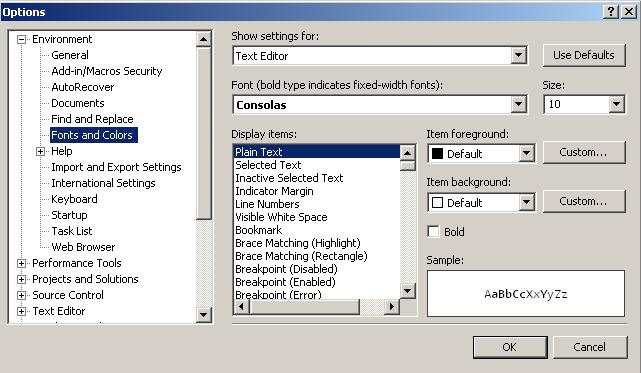 Below there is a screenshot from MS Visual Studio 2008 where I have written some .NET code using the Consolas fonts.
Consolas Font Pack for Microsoft Visual Studio 2005 can be downloaded for MS Visual Studio versions 2005 and 2008 from Downloads web site.